Climate Innovation Leadership at a glance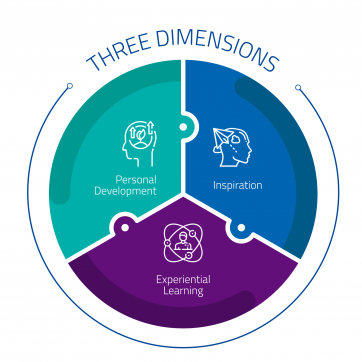 Want to be considered top talent in climate innovation?
This programme is for you!  The Climate Innovation Leadership programme offers you three complementary learning dimensions: 
Personal development: Interdisciplinary and international group coaching sessions

Inspiration: Sparks! provoking lectures and deep learning complementary courses

Experiential learning: The Journey summer school and a personal challenge-based project 
In 2021, all Climate Innovation Leadership activities will take place from February until mid-December.
The programme in depth
Personal development
During the programme, you will be invited to participate in 8 group coaching sessions. With your group, you will learn how to assess yourself in a peer-to-peer mode facilitated by a coach. The aim is to develop the skills you need to lead a systemic change.
Inspiration
Spark!
During the Spark! lectures you will have the possibility to virtually meet and network within the EIT Climate-KIC and universities community, whilst being inspired by innovators, entrepreneurs and thought-leaders
The format used is a combination of online inspiring talks or workshops with climate innovators and thought leaders. The topics and speakers are carefully selected to cover climate innovation and/or entrepreneurship. All discussions are followed by an open and interactive session.
Complimentary Courses 
The courses aim to provide you with knowledge and tools to become innovators and/or entrepreneurs with an impact on Climate Change. They are provided to all students by the Climate Innovation Leadership partners through the EIT Climate-KIC online learning platform or in person.
The exact curriculum will be designed based on your learning objectives and the resources offered by the different universities.
Experiential Learning
To complement the theoretical aspects of the programme, you will be equipped with the right practical tools for systems transformation and community building. You will be invited to experiment climate action through a learning by doing approach. Two types of learning tools will be used:
The Journey Summer School
The Journey is the world's biggest climate innovation summer school offering transformative learning experiences to graduates and young professionals. Each year, over 300 participants gear up for the world of climate leadership and systems innovation to enable faster transitions. For more information, click here.
The summer school will allow you to work with participants from all over the world and to connect, interact and extend the network of Climate Innovators.
Personal challenge-based project
You, as an individual or in a group, will design, plan, and deliver your personal challenge-based project. The project will be linked to your personal development objectives and will nurture your professional orientation.
The personal challenge-based project will not have a specific format. For instance, projects could be an internship in an innovation project or start-up, university challenge-based, a local industry defined project, involvement in the development of an EIT Climate-KIC Education or Entrepreneurship programme, etc.
Why Apply?
Benefits of the Climate Innovation Leadership programme
Influential qualifications
We offer you career-enhancing qualifications of the highest quality designed to extend and deepen your knowledge. You will receive tuition from the brightest academic minds in the climate change space, located in the best academic institutions across Europe.
Career advancement
EIT Climate-KIC provides you with unrivalled professional opportunities. Our combined network of academic institutions and innovative corporations is a unique opportunity to realise your career aspirations and extend your professional contacts.
Commercial know-how
You always have great ideas, but you lack the skills to actually make them become real? We teach you the right set of skills to be able to commercialise your climate change idea.
Personal development
You are tired of standardised education and want to be able to sharpen your own vision for climate change? We are dedicated to help you explore and realise your own vision for climate change by mentoring and practical support.
Network and community
You become part of an unprecedented, active and influential network of entrepreneurs, businesses, regional governments and academic institutions.
Graduates automatically become members of the EIT Climate-KIC Alumni Association. Here you will receive access to the other community resources (entrepreneurship support, research opportunities, networks with our partners).
You will also be the first to receive opportunities from within our community including PhD positions, job opportunities, research and innovation projects and start-up matching.
EIT Climate-KIC Certification
Add value to your curriculum of studies
The EIT Climate-KIC Innovation Leadership adds extra value to study programmes at our partner universities. Upon successful completion, you will receive an EIT Climate-KIC certificate in addition to your regular degree.
Would you like to:
Embrace the complexity of systems transformation;
Demonstrate a common inter-and transdisciplinary understanding of the challenges related to climate change;
Demonstrate knowledge and understanding of the entrepreneurial process and how business (re)acts to climate change in the respective economic and political environment;
Deliver ideas, products, and services in response to climate challenges;
Communicate about climate change causes, consequences, and solutions;
Work in international and multidisciplinary groups and networks, including the handling of group dynamics associated with new teams working together;
Apply their education in a real-world entrepreneurial setting;
Address any major gaps in the fundamental knowledge and skills they need to recognize, and exploit opportunities related to their career and degree choice;
Transition to an active, self-driven style of entrepreneurial learning;
Start developing a professional network;
Gain soft skills such as presentation, group work, personal development planning, business idea pitching and idea evaluation, entrepreneurial mindset?
Then join our programme which offers an unique arena to deepen and extend your knowledge, gain credibility and develop your business opportunities throughout Europe and beyond. Complement the studies you are already enrolling in and become part of a community that creates real solutions for climate change mitigation and adaptation.